Unity has been getting a lot of hate recently. They've been going through a rough time. They've had layoffs, their earnings are down. After all of this, they decided to spend money on a merger, which makes them look even worse. On top of that, Unity CEO John Riccitiello comes out and says that developers who don't consider monetization during design are 'f***ing idiots.' So, it's understandable why Unity is getting so much hate. He has since retracted this statement, but it doesn't change what we're talking about today.
Things are looking rough at Unity, but today, I want to talk about how the merger and even Riccitiello's comments are consistent with Unity's long-term vision as a company. The merger is the natural conclusion of their other choices.
The Merger Details
On July 13th, Unity spent $4.4 million to merge with ironSource, a company that specializes in turning mobile apps into businesses. This was not an acquisition, but a merger, even though Unity is a much larger company than ironSource. I don't want to get bogged down in legalese, so I'll leave it at that.
There has been a lot of backlash around the merger. Unity just laid off over 200 staffers a few weeks ago. They said they wanted to "realign some of [their] resources." Unity also reported a loss in earning just this May, which led to a huge drop in their stock. This seems like the wrong time to spend $4.4 billion. Unity also acquired a few other businesses this year. Why did the merger go through now? Let's look at Unity's business model to answer that.
Unity's Business Model
Unity Engine is a multipurpose tool. People use it to make big games, like Escape from Tarkov and Fall Guys. People use it to make movies (at least in theory). But here's the big one: Unity has a stranglehold on mobile games. About half of the top earning mobile games of 2021 used Unity. Hypercasual games, which dominate the charts outside of the very top , commonly use Unity. Unity is THE mobile games engine.
Unity also offers an ad solution, Unity Ads. Unity Ads is one of the biggest mobile ad networks for games. They formed one third of what was called the Gaming Triopoly . The other two members? AppLovin and ironSource. Unity also already offers solutions for analytics, deployment and in-app purchases. They make money from all of these services. The majority of the revenue that Unity earns is through their Operate arm, which includes Ads and In-App Purchases. Unity is a mobile games company.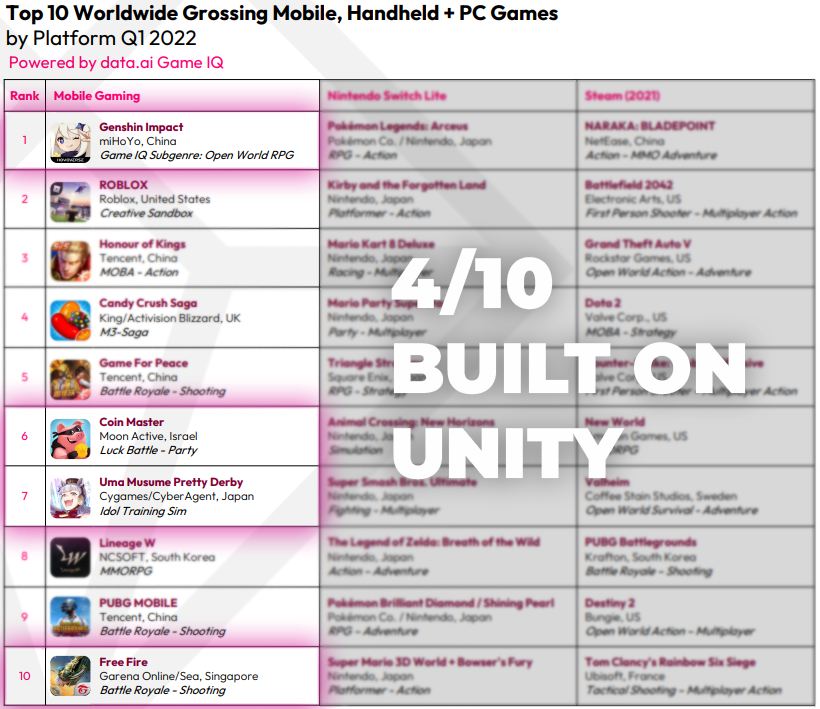 The Mobile Market and Ads
The mobile games market generates more money than any other market in gaming. Ad-supported games on mobile are becoming more and more common, and people also are becoming more ok with them. The top grossing mobile games still use IAP primarily, but hybrid IAP + Ad monetization is becoming more common. Mobile game studios need to be able to leverage both forms of monetization, and they need tools to be able test monetization quickly.
What ironSource Does
ironSource, as mentioned earlier, is one of the biggest mobile game ad networks. They offer analytics for mobile game ads. They also offer game publishing services through their supersonic arm. ironSource doesn't have anything to do with game development directly, but they offer a lot of the other tools needed for mobile game development. Unity also offers most of these services, so they are looking to improve these offerings with the ironSource merger.
Integrated Solutions
Unity is looking to be a fully integrated system. There are a lot of benefits to this type of system. Your customers can come to one place to get a lot of things they could get elsewhere in many different places. It reminds me of the gaming market, actually. Unity is looking to be the console of game development.
Console vs PC
Consoles have a few advantages over PCs. For one, they are cheaper. They are so much cheaper on average that a lot of people who want to get into gaming won't even consider PC. Unity is similar. They are a very cheap option. Unity doesn't charge developers anything until they make over $100k, so they look like a good option to people getting in on the low end.
Consoles don't just attract cheap gamers, though. I would argue that the chief advantage of consoles is that they are integrated. When you buy a console, you are getting everything that you need to play games. You don't have to worry about part compatibility, or about putting anything together. You don't have to spend time learning about the advantages of different processors or manufacturers. You pick the brand you want, and you buy an all-in-one system. Unity is becoming that for game development, especially in mobile. If you want to make a mobile game for profit, there are a lot of things you need. You not only need to make the game itself (which is hard enough), but you also have to worry about building, deploying to testers, deploying to app stores, and monetization.
Modern mobile games require even more: you need in-depth analytics to manage your game after launch, you need to set up a CI/CD pipeline so that you can get changes out fast, and you need to integrate ads. If you go with other popular mobile game engines, you will need to piece together your own solution to these problems.
Is Unity Ads the best ad solution? Not exactly. Unity doesn't offer the best analytics solution, or the best deployment solution. What Unity is looking to offer is an end-to-end solution. They even said it in the press release for the merger. Many people saw it as word soup. Thankfully, I am fluent in word soup. Here's what they said:
Unity announced today that it has entered into an agreement to merge with ironSource, harnessing the company's tools, platform, technology, and talent to form an end-to-end platform that enables creators to more easily create, publish, run, monetize, and grow live games and RT3D content seamlessly.
Conclusion
Unity is putting together an end-to-end solution for making games. Unity is doubling-down on being the the best solution for mobile games studios. We will see how this reflects in the future earnings, but this merger is more on-brand for Unity than some of their other moves, like the WETA acquisition.